Winston Churchill: The Wilderness Years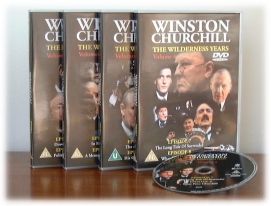 Produced by, and originally broadcast on, Southern TV during September and October 1981, this series chronicled Churchill's years between the wars. Robert Hardy puts in a sterling performance as the great man himself, and with a superb supporting cast including Sian Phillips, Nigel Havers, David Swift, Edward Woodward, Peter Barkworth, and Eric Porter, this series becomes compulsive viewing. The series is now available on four volumes of DVD from Delta Home Entertainment, and although there are no extras on the discs, they are regionless (so should play on any DVD machine) and are reasonably priced.

| | |
| --- | --- |
| Winston Churchill | Robert Hardy |
| Clemantine Churchill | Sian Phillips |
| Randolph | Nogel Havers |
| Sarah | Chloe Salaman |
| Mary | Tamsin Murray-Leach |
| Professor Lindemann | David Swift |
| Brendan Bracken | Tim Pigott-Smith |
| Stanley Baldwin | Peter Barkworth |
| Neville Chamberlain | Eric Porter |
| Ramsey MacDonald | Robert James |
| Sir Samuel Hoare | Edward Woodward |
| Bernard Baruch | Sam Wanamaker |
| Lord Beaverbrook | Phil Brown |
| Lord Rothermere | Stratford Johns |
| Lord Derby | Frank Middlemass |
| Lord Swinton | Walter Gotell |
| Lord Halifax | Richard Murdoch |
| Sir Thomas Inskip | Peter Vaughan |
| Sir Horace Wilson | Clive Swift |
| Mrs Pearman | Sherrie Hewson |
| Ralph Wigman | Paul Freeman |
| Desmond Morton | Moray Watson |
| Wing Commander Anderson | David Quilter |
| | |
| Music | Carl Davis |
| Exectuive Producer | Mark Shivas |
| Producer | Richard Broke |
| Director | Ferdinand Fairfax |

Epsiode 1 - Down And Out: September 1928-November 1929 Broadcast 6.9.81 Churchill was a maverick politician, and during the last months of 1928, held one of the most powerful posts in Baldwin's Conservative Government. Sam Hoare and Neville Chamberlain were trying to oust him from the favour of both Baldwin and the country. In the Spring of 1929, the Conservatives lost the General Election and, at 55, Churchill beleived his political career to be over, and nearly broke, embarked on a lecture tour of America with his son, Randolph. The dollars roll in and he invests enthusiatically, but recklessly, in Wall Street, until the crash wipes out his investments. With his party preparing to abandon India, it is a depressed Churchill that returns to Britain. Episode 2 - Politics Are Foul: October 1930-March 1932 Broadcast 13.9.81 The India question had become a sensation, largely due to Churchill's campaining, and it looked as though the first Labour Government, headed by Ramsey MacDonald, was nearing it's end. Churchill was tricked by Baldwin to make a speech in the Commons against his own party, and was forced to resign. When Baldwin pledged support to MacDonald's Government, Churchill was left in his own political wilderness. Episode 3 - In High Places: May 1932-April 1934 Broadcast 20.9.81 In Munich, Hitler declined an invitation to dine with Churchill, and on his return to London, no-one in the Commons took Churchill's warnings about Nazi Germany seriously. Objections to the India bill were overcome with behind the scenes skullduggery and, after Churchill suffered a paratyphoid relapse, his Motion on India was rejected by the party. Episode 4 - A Menace In The House: April 1934 - August 1934 Broadcast 27.9.81 Churchill spent the best part of 1934 fighting corruption in Parliament, in particular, demanding a Committee of Privilages be set up to investigate the actions of Hoare and the India Office over the India bill. The House voted with him and he and his family were jubilant, but the Committee is determined not to form a witchhunt, but looked into the matter and found that Hoare was far from completely innocent. In spite of this, a way was found to foil Churchill once again. Things looked up when the Head of the Central Department in the Foreign Office, Ralph Wigram, began to tell Churchill of the advances within Germany's fighting forces, and the reluctance of the Foreign Office to do anything about it. Episode 5 - The Flying Peril: November 1934 - December 1936 Broadcast 4.10.81 A stirring speach int he House of Commons marked a turning point in Churchill's career, and world history, and for the remainder of the decade, he was dedicated to the growing threat of Hitler's Germany. Accurate information about the state of the British defences caused consternation amongst his party colleagues. When the MacDonald government finally fell, Stanly Baldwin led his party to another General Election win, however, Churchill was excluded from the cabinet, and felt, more than ever, that his political career was over, until Hoare was forced to resign. Churchill was rallied to fight back. Episode 6 - His Own Funeral: 1936 Broadcast 11.10.81 In a flagrant breach of the 1919 agreements, Hilter moves his troops into the Rhineland, and action that Churchill hoped would open the British Governments eyes. Despite a further snub when the new post of Minister for Co-ordination of Defence is created and handed to Tom Inskip, support for Churchill was growing and things were looking up. that is, until he speaks out for the King over the abdication. Suddenly, everything, for which he had worked, is lost in a torrent of abuse. Epsiode 7 - The Long Tide of Surrender: February 1937 - September 1939 Broadcast 18.10.81 The beginning of 1937 was bleak for Churchill. Spending his time at the family home, Chartwell, building his wall, painting, and writing his History of the English Speaking People (see This Sceptred Isle) to his self-imposed deadline of September 1939, Churchill was far from idle while the British Government continued to dawdle over the situtation in Germany. When news arrived that Hitler was about to invade Czechoslovakia, Hoare, recalled to the cabinet, pleaded with Chamberlain to act, whilst churchill had raced to London with the same intentions. Chamberlain decided to ignore them both and flew to Germany to meet Hitler. Episode 8 - What Price Churchill?: September 1938 - September 1939 Broadcast 25.10.81 When Chamberlain declared "Peace In Our Time", he, and Parliament beleived it, and Churchill returned to the political wilderness. However, the British public were not quite so sure, and his support increased. Events moved quickly and int he course of a year, Germany had extended its borders, ignoring all agreements, and by September 1939, war was inevitable. This marked the return of Churchill, and later on the same day that war was declared, Churchill emerged from 10 Downing Street, cigar in hand, back in the Admiralty.